Who is Your Private Tour Guide?
I get very often questions like  "Who will be our private tour guide?"
I'll introduce you to our team of first-class tour guides who help us to deliver and maintain the highest level of travel services. Who are THEY?
They are all native Slovaks, highly educated travel specialists, passionate storytellers, with a sense of humor, incredibly well informed, well organized, with an understanding of clients' needs and attention to every detail. And last but not least, they are excellent, safe & smooth drivers.
Martin – showing the beauties of the High Tatra Mountains
MARTIN S.
was born and raised in the charming historical city of Trnava. He studied at an agricultural university but decided to leave the school to follow his passion for travel. He made his guide license and started to work in tourism. First years he worked as a guide in summer resorts in Greece and Turkey and winter spent in our Tatra mountains working as a ski and snowboard instructor. He lived 5 years in Prague, where he worked as a local guide and guided big bus tours around Czechia and other European countries. Prague is also the city, where he met his wife Martina and their first son Bonifac was soon born. But after 5 years, he listened to the call of his roots and moved back home to Slovakia, where he started to work with Best Slovakia Tours – a travel company. And recently his family grew bigger with the arrival of twins – Jacob and Jasmine. They live in Small Carpathians in a lovely little village surrounded by vineyards.
As an experienced guide-driver he will bring you to Slovakia, Czechia, Poland, Austria, Hungary, Slovenia, Croatia, Germany, and Netherlands. He provides travel services as a guide for city tours, ancestry tours, Jewish heritage tours, and hiking tours. He speaks excellent English and is advanced in German.
His personal motto: "Life is what you make it"
One of Martin's many reviews on TripAdvisor:
"He is an awesome guide, and his personality is perfectly suited for his job. He sensed immediately what we would want to see and do, whether touring small towns, visiting an old wine cellar, taking in a local fair, shopping in a grocery store, or walking in the High Tatras. I must admit that I was somewhat skeptical about taking a guided tour, for I have often planned trips for traveling in Europe. My skepticism vanished as soon as Martin appeared. From Bratislava and Trnava to Banska Bystica and Levoca, from Spis castle to Bojnice castle, from the High Tatras to the medieval city of Bardejov and on to the painted houses of Cicmany – Slovakia is an endlessly gorgeous country with a rich history and fascinating sights. Martin made it all come alive for us. He was always accommodating and flexible. It was like traveling with a great friend."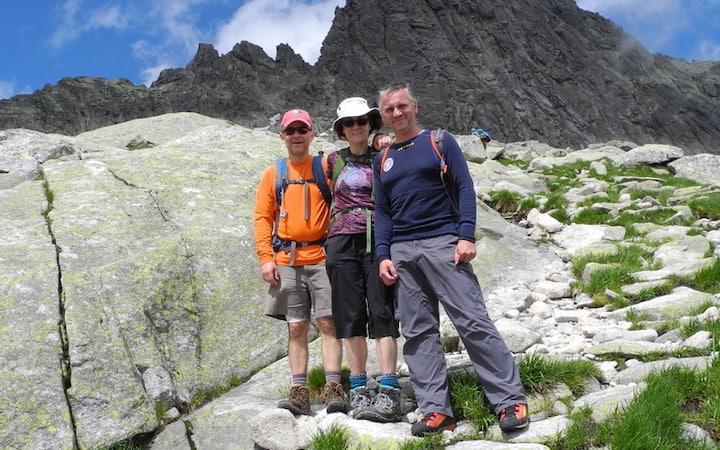 Marcel at the Heart of High Tatra mountains
MARCEL
was born and raised in Poprad town under The High Tatras. From his childhood, he often looked out from the bedroom window into the distance of the picturesque High Tatras, which fascinated him even then. In high school, he started going with his friends to a small climbing "expedition" on the surrounding rocks, and later to the High Tatras. Mostly he went with a friend whose father was a member of the Mountain Rescue Service.
During his studies at Comenius University in Bratislava, he loved coming back to the mountains. Since 1998 he accompanies tourists from around the world to the mountains and surrounding towns. In 2011 he got certified as a mountain leader. Besides, he has been working as a member of the Council of the Slovak Association of mountain Leaders since it was established in 2011 and he is a trainer of young mountain guides and leaders.
He will show you in a highly enjoyable way – Slovakia, Czechia, Poland, Austria, and Hungary. He provides travel services as a guide for hiking, skiing, snowshoeing tours, city tours, and ancestry tours. He speaks excellent English.
His personal motto: "The mountains are high, but the human hope is even higher"
One of Marcel's many reviews on TripAdvisor:
"Our guide, Marcel was fabulous – incredibly knowledgeable not only about the mountains but also about the history and current affairs of Slovakia and highly personable as well! On the first day, we hiked a 20 km route up to the hut at Green Lake and then back to Tatranska Lomnicka. It was raining on the second day, so instead of hiking in the High Tatras, Marcel suggested that we hike in a less exposed area of the Slovakian Paradise, including an amazing hour following a via ferrata at Kysel (with all of the necessary gear)"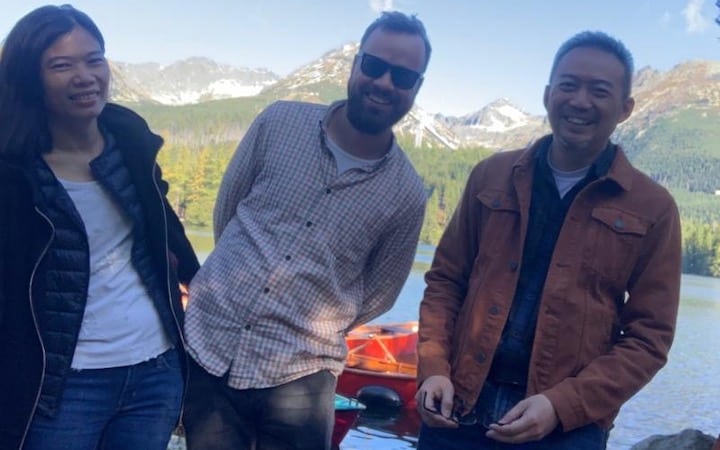 Patrik –  showing High Tatra mountains & Strbske Pleso resort
PATRIK
was born in the northern part of Slovakia but has never lived there. He was raised and grew up in Bratislava. When he was younger, Patrik spent a nice year living in Perth, Australia, and had to become a fan of the West Coast Eagles! At that time, he met and came into contact with many interesting people from all around the world, which helped him later in the way how to communicate with people.

After a couple of years living in Vienna, he decided to come back to his hometown and started working in tourism, where he can use his experiences from traveling and transform them into benefits for clients. In his free time, either he rides his chopper or rides his snowboard in Austria, as he is also a certified snowboard instructor. He speaks perfect English and German. He loves showing and guiding travelers through Slovakia, Poland, Czechia, Austria, and Hungary.
One of his many reviews on TripAdvisor:
"The attention to detail in every step along the way from our pickup at our hotel in Vienna to our 4 a.m. departure for the airport was flawless. The itinerary included highlights of Slovakia from Bratislava on one side to Kosice on the other & concluded with our favorite, the Tatras. Our tour also integrated a visit with a family that was assisted by their recommendation of a genealogist. The "icing on the cake" was the tour guide, Patrik, who was a great fit for us-personable & knowledgeable & the key ingredient in meeting our family in their homes in the small villages. His translation & warm personality bridged the cultures."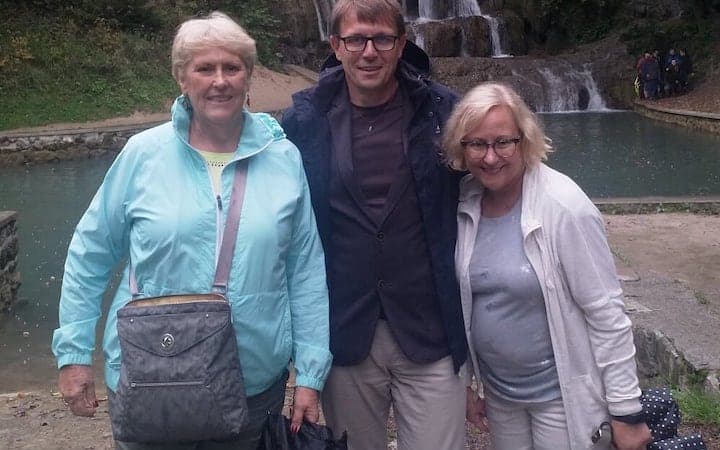 Martin with the US clients on Ancestry tour in Liptov region
MARTIN
has been a notorious traveler already from early childhood. He was born and raised in the heart of Slovakia – in the mining town Prievidza looking at beautiful romantic Bojnice castle right from the window of his room. Then his educational path took him further to the east and he enrolled into the Technical University of Kosice – an eastern Slovakian metropolis, known for its St. Elizabeth Cathedral.
After obtaining his engineering degree he moved again, this time went to the west and started his new job in Bratislava –  the capital of Slovakia. The Velvet revolution opened up the borders and enabled Martin to move beyond Slovakian borders. So he lived many years abroad, enjoying the sunshine and easy-going attitude of Australians.
The cycle would not be complete without Martin's return to the place he always called home, back to Slovakia. He lives in the town of Olympic champions and world-class skiers – in Liptovsky Mikulas, only a few miles from the High Tatra mountains. Martin is an experienced guide-driver and traveler with excellent English, always willing to share his knowledge of history, culture, and traditions with keen fellow travelers.
So if you are willing to experience UNESCO sites, learn about precious metals mining or visit some interesting renaissance towns, medieval castles, and cities or just take a walk in the mountains offering breathtaking views, Martin will take you right there promising life-long experiences and adventure.
His personal motto: "Every tour (like any good pizza) should have four main components – ACTIVITY (walking, hiking – based on your fitness level so you can enjoy your holiday and still remain fit), CULTURE (so you know what it is what motivates Slovaks to get out of bed in the morning), TRADITIONS (so you know what "bryndza" cheese is) and HISTORY (so the puzzle comes all together into one nice picture)."
One of Martin's many reviews on TripAdvisor: 
"Our guide, Martin, was great! He was a wealth of knowledge about the country and the history of the entire region. We visited some interesting stops along the way to and from Lucky. We truly enjoyed his company and he made the trip pleasant for us."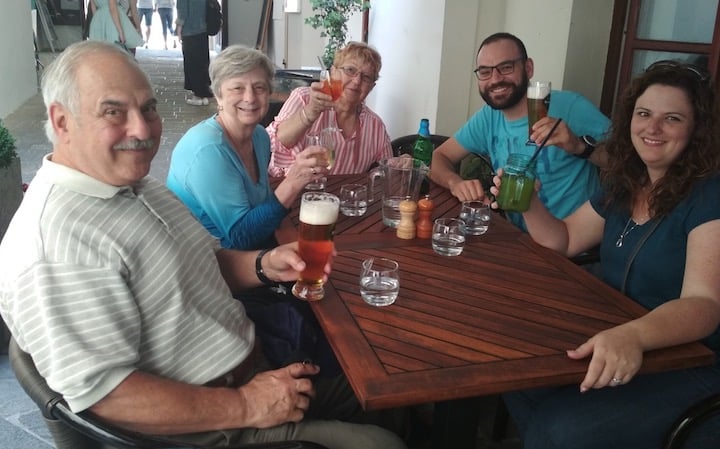 Matej or better known as Matt on an Ancestry tour with our US clients
MATEJ
was born and raised in a lovely region of the High Tatra Mountains, full of picturesque valleys, lakes, and mountain cottages. This is probably why he is able to proficiently present to our clients the most adorable places during the tours. He is famous for his "no-frills" approach to historical facts that enable the clients to really enjoy the tours and focus on what really matters.
Matej studied in the USA, England, and Canada, which provided him with solid English language skills that many of his clients appreciate.
Matej is an experienced guide-driver, who guided his clients all over the CEE region and beyond. To his favorite countries belong – Slovakia, Czechia, Poland, Austria, Hungary, Slovenia, and Croatia. Matej's field of expertise is in city tours, hiking tours, and ancestry tours. He loves an active lifestyle, practices different sports such as skiing, jogging, swimming, cycling.
His personal motto: "Better now than never…"
One of his many reviews on TripAdvisor:

"Jane and Peter, I am Paul, the oldest sibling. I would like to start with the most important element of the trip: Matt. Matt proved to be knowledgeable, well-spoken, humorous, and caring guide. He loves his country and he is enthusiastic about it. The flow of the tour was very good with two nights in each place. The hotels were different and enjoyable. Above all, I found them comfortable. I would readily recommend you and your company to anyone interested in traveling to Slovakia. Thank you for your concern and help, Paul S. / USA"
Peter – showing our Canadian travelers the mighty fortress – the Spiss castle
PETER
Since his childhood, Peter loves strolling around Bratislava – his hometown, but at the same time, he loves High Tatra Mountains – his base camp especially for the summer. Every winter his parents took him to the Slovak mountains for skiing holidays.
Peter's very first travel started soon after the Velvet Revolution, he visited with his parents  Switzerland and France. He fell in love with traveling and learning foreign languages.
In 2006 he met his future wife Jane and she showed him again the beauty of Slovakia. One of their first holidays was a tour around Slovakia. And here the idea of their future job was born. Showing lovely Slovakia to foreign travelers. Behind everything, there is a love;)
Peter became a professional tour guide, established a privately owned travel company, and started guiding. From the very first tour, he was focused on the highest possible level of quality and attention to detail. After a few years of tours around Slovakia, he added tours to Poland, Czechia, Austria, Hungary, Slovenia, Croatia, and Italy. He also took clients on a 28-day Scandinavian tour, the Best of Romania tour, a tour around France (Cote d'Azur, Lyon, Paris, Bordeaux), and Spain (Barcelona-Valencia-Madrid).
Peter put together a team of top tour guides.
He is responsible for the smoothest and precise tour planning, choosing the best possible tour guide, making the special requests and wishes come true. Peter delivers first-class customer care, quality, and details.
He likes an active lifestyle, eating and living healthy, and practicing different sports. In the winter, he loves skiing in Slovakia (and Austria, France, Switzerland), in the summer it is jogging, swimming, cycling, fitness, hiking, Thai boxing, motorbike riding, and a little bit of yoga with his wife Jane. He lives with his wife Jane and his kids Jacob and Dominik in Small Carpathian hills in a little village Limbach, only a few steps away from his beloved Bratislava.
He does private tours in English, German, Spanish and trying to be much better in Italian.
Peter's motto: "If you're not doing what you love, you're wasting your time."
One of the very first tours, it was the year 2007. Review on TripAdvisor:
"Our family tour of my father's homeland was in 2007 – Best of Slovakia Tours inaugural year – and it remains today our most memorable trip. From start to finish all attractions, accommodations, meals, etc. were "A 1". Peter took care of absolutely all of our needs paying special attention to those of my aging parents. Trip Advisor reviews over the past 10 years concur that the company's dedication and passion for traveling and creating memorable experiences remain. Congratulations Peter, Jane & Staff! We will continue to recommend your company to family and friends and look forward to touring again with you in the not too distant future. Warmest regards,Bob & Diana (Strba) M. / Canada"
Dear Traveler, do you need a skilled, professional first-class TOUR GUIDE for your lovely Slovakia tour?
Write to us now! Our team is waiting for you.