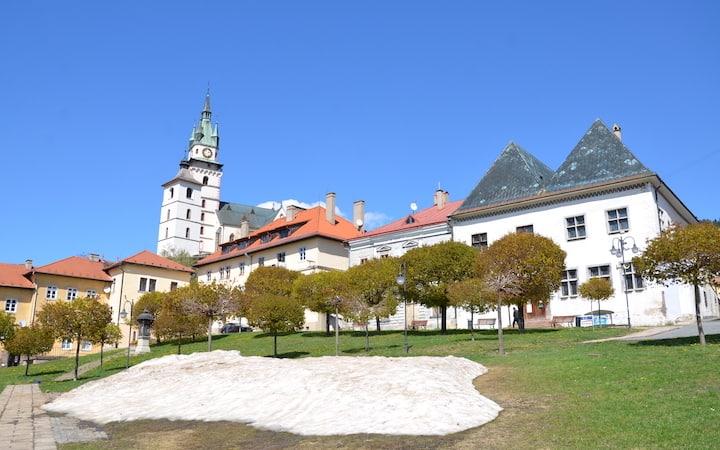 The Town's castle, the national cultural monument is a dominant complex of 14-15 centuries protected by defensive walls. The dominant building of the castle area is the church of St. Catherine, clock tower, 3 bastions, and north tower gate.
St. Catherine church – Roman-catholic, late gothic church from the 15th century. However, the interior of this church is younger – neogothic (19th century).
The pride of this church is the organ, visitors can enjoy the exceptional acoustic on the most significant event which takes place every year during the summer months – The European Organ Festival "Kremnica Castle Organ". The program, prices, and more info Here
Mint factory / Mincovňa, with 700 years of operation, is the world's oldest continuously working mint factory. Kremnické dukáty – so-called Kremnicke fluorenyl belonged to the most precious coins in Europe. I recommend taking a tour through the mint, see the 100-year-old machines. Opening hours and prices, Here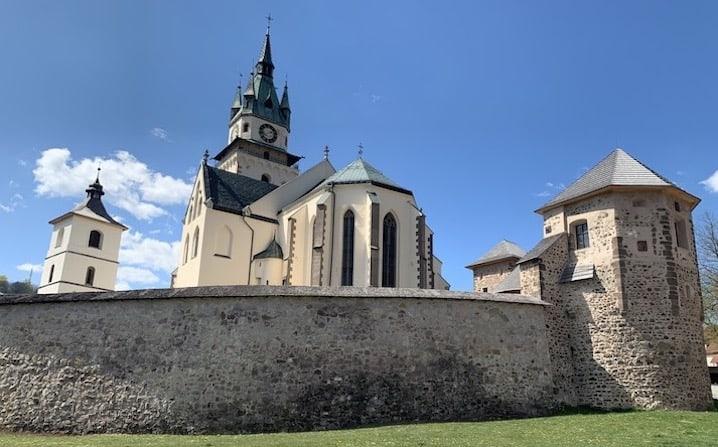 TOWN'S HALL –  a lovely little house on the main square
Interesting museums:
Museum of coins and medals, info about opening hours and entrance fees – Here
Mining museum – Adit Andrej
Become a miner for a while. Visit Adit Andrej, it takes visitors for an interesting journey through the town's mining history. It is only possible with a local guide who gives you the safety instructions and equipment. The part open for visitors is 660 meters long and it takes roughly 60 minutes. Opening hours and entrance fee, Here
VIEWS FROM KRAHULE VIEWPOINT
Tip to get great views of the town – walking up to Krahulsky stit Unforgettable views of the old Kremnica (views of town's castle complex, city walls, St. Catherine church) and Kremnica hills, Stiavnicke hills, and Vtacnik peak. Walking takes 1:30 min, starting from the square. The 13m tall wooden tower lies in 959mASL.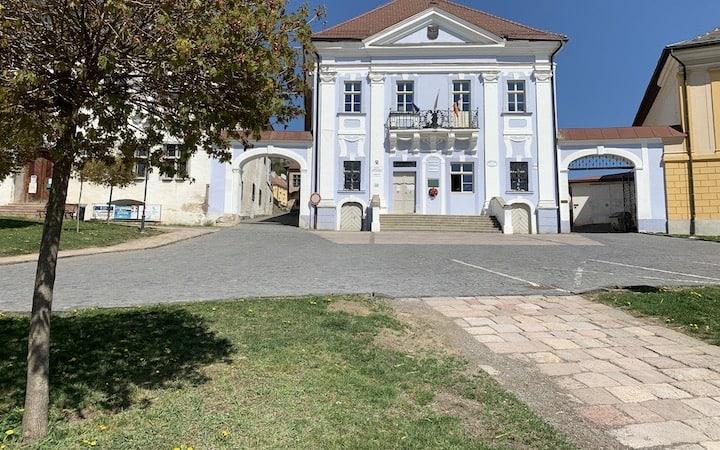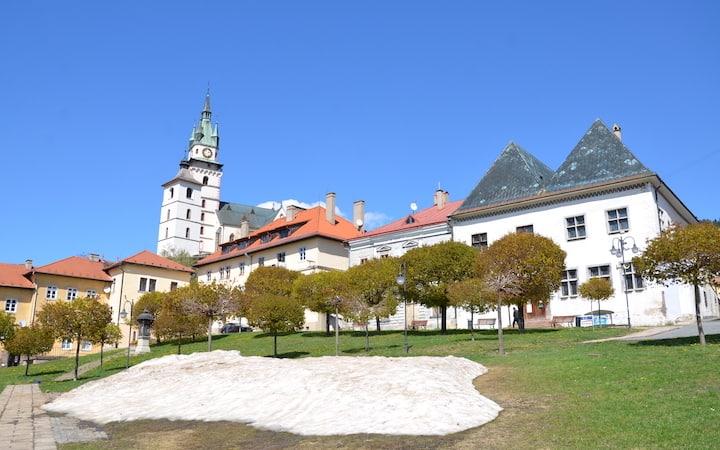 SNOW ON THE MAIN SQUARE – AFTER "BIG AIR IN THE TOWN EVENT"
"Big Air in the city" is a snowboard and Freeski show, a special thrilling event that takes place every winter in Kremnica, directly in the center. Details Here
Looking for some more challenging summer adventure?
Visit Skalka area – The Via Ferrata is one-way with 3 levels of difficulty, Komin (Chimney), Trubacova veza (Trubac's tower), and Výzva (Challenge) – the most difficult via Ferrata in Slovakia.
Try the Via Ferrata Bridge in Skalka, the longest cable bridge and cable climbing in Slovakia. Opening hours, entrance fee, and more info, Here
SUNSET AT GEOGRAPHICAL (SLOVAK) CENTRE OF EUROPE 
(Slovak) The geographical center of EUROPE. In a beautiful place near Kremnica is located an ancient church of St. John the Baptist and in front of it a stone with information that there is the Geographical center of Europe.
As I have mentioned earlier – Slovak – it is because there are several other "centers of Europe", Germany, Latvia, Poland, and some other countries have their own centers of Europe:)
It is also here a foundation stone of the Slovak state, laid here on the occasion of the establishment of the Slovak Republic.
Other events
European festival of Humour and Satire, a unique international event called Kremnicke gagy which takes place every year at the end of the summer.
Where to have tasty Slovak specialties?

Restaurant Silvanus is the best choice. Located in a historical main square offers homemade meals and game specialties.
Address: Poľovnícka reštaurácia Silvanus, Štefánikovo nám 33/40, 967 01 Kremnica, Mobile: 00421 905821405
THANKS for reading my travel blog. I do believe it was useful, interesting, and motivational for you.
Would you like to organize a tour of Slovakia?
We're here to assist you with precise trip planning and guiding you around our lovely country. Visit Private Tour – Trip Planning
The latest upcoming events you can find on our Facebook page.
Short Video of Kremnica on our YouTube channel.
Write us at contact@bestslovakiatours.com
Peter, founder & CEO of Best Slovakia Tours