SULOVSKE ROCKS ARE AMAZING!
Come with us to North-West Slovakia to discover the beauty of Sulovske rocks. Today, I have finally a group of 8;). My family and my brother's family. 4 adults and 4 children. And a full day ahead of us;)
Enjoy reading!
LITTLE DOLOMITES IN SLOVAKIA & THE GOTHIC GATE
Sulovske rocks / Sulovske skaly belong among one of the biggest phenomenons of nature beauties of north-west Slovakia. In a relatively small area, there is a huge concentration of geomorphological shapes such as stones that look like an Owl, Monk, Gothic gate.
WHERE TO START A HIKING TOUR?
Basically, there are 3 main directions from where to start discovering Sulovske skaly. From Povazska Bystrica town through Manin gorge and village Vrch Tepla, or from Bytca to Sulov-Hradna or from Rajecka valley to Sulov village.
SAFETY FIRST – ALWAYS ON MARKED TRAILS
Our kids on this trip chose the Educational Trail to Sulovsky castle.
What is waiting for us? The trail is 6km long with a gained altitude of 252m and it takes roughly 2hrs 15min. It is an easy-to-moderate trail from the car park in Sulov-Hradna.
The trail is marked (from the car park area you simply follow a green mark) and numbered. The highest peak of Sulovske rocks is Zibrid peak (868mASL), 2nd is Pyskata kacka or Kecka (822mASL) and 3rd is Patrikova or Brada (816mASL).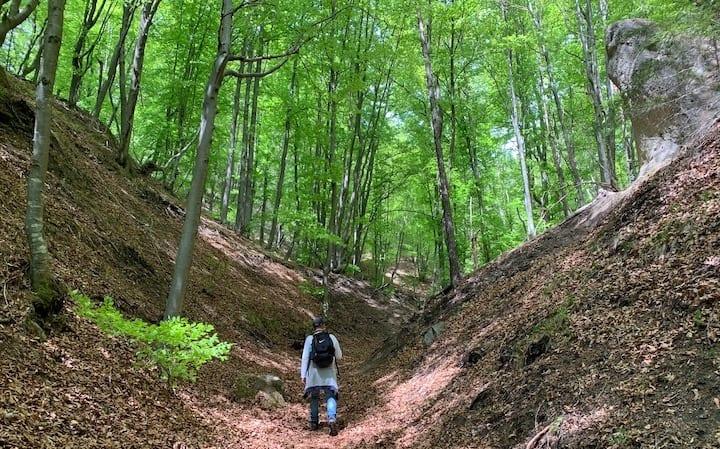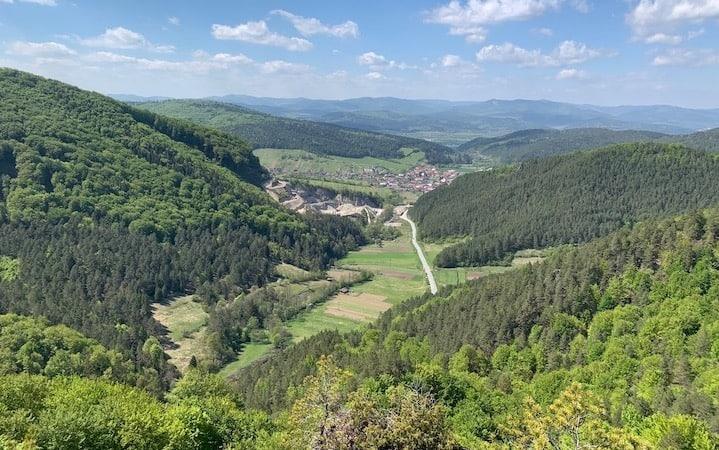 The current global situation with the outbreak of COVID19 stopped the travel business completely. For me, as a private tour guide (the last 12 years I have been working as a guide) it is also an unprecedented situation.
After the first 2 months (March-April) of doing cancelations on the daily basis of the upcoming trips and tours, we finally decided on our new project called "Virtual tours around Slovakia" and every Thursday at 5 pm we are LIVE from some part of Slovakia.
As it is impossible to travel to Slovakia from other countries, I love to bring a piece of Slovakia to all travelers through these virtual tours via social media. And last but not least, I love to see more and more people are watching our LIVE streams on Facebook, leave positive comments, and want us to go on with this idea.
And I found time to learn new things such as filmmaking and drone flying.  I never could find time for such activities in our busy travel seasons. I would say this can be the positive side of the current situation for me.
VIEWS FROM SULOVSKY CASTLE 
Súľovský hrad / Sulovsky castle – was built at the beginning of the 15th century to protect the nearby ancient trade route. In the 18th century, it stopped being used and later an earthquake in 1858 damaged the castle and turned it into a ruin. There are breathtaking views from the upper part.
DOMINO, JACOB, LEO, AND SAMUEL
What did our kids like the most on this day trip? They loved so-called "sweet breaks" and the big break on the top;). And another good effect – they spent the day without any electronic devices;). Just the untouched nature.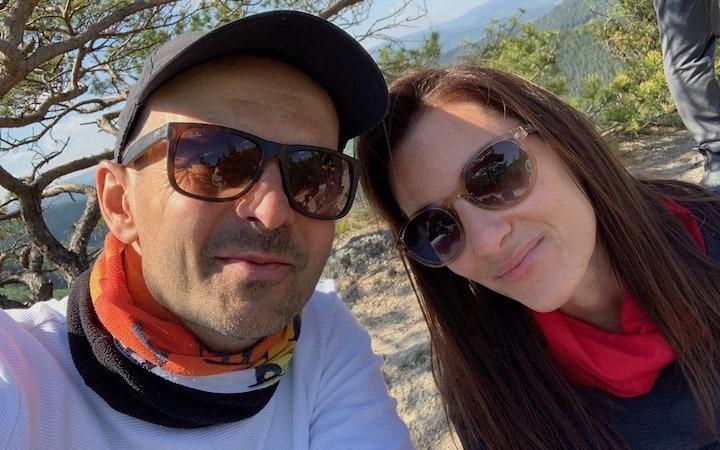 PETER & JANE – IN LOVE WITH SLOVAKIA
THANKS for reading my travel blog. I do believe it was useful, interesting, and motivational for you.
Would you like to visit this picturesque region of Slovakia?
We can hike with you in Sulovske rocks on your Private Tour
The latest upcoming events you can find on our Facebook page.
Write us at contact@bestslovakiatours.com
Peter, founder & CEO of Best Slovakia Tours